Connecting Software is looking for a
WordPress and SEO Specialist
Madeira, Malacky, Remote
Connecting Software is looking for a WordPress and SEO Specialist. Could that be you?
We are searching for a passionate WordPress and SEO Specialist to join our excellent marketing team. You will be responsible for our website, and you will create, maintain and improve it due to the newest technologies and trends. The responsibilities also include analyzing and identifying gaps in website content, optimizing pages for better search results, building links, and supervising content creation. You should be able to identify marketing opportunities and come up with strategies to increase website traffic. We search for a doer who is actively looking to make things permanently better. Our page is our most important information and marketing tool.
Connecting Software is a dynamic, steadily growing B2B software company with nearly two decades on the market. With around 40 employees, you can become a person instead of a number in our organization. We work closely together with our team members and listen to everyone who wants to contribute. We have offices in Europe (our headquarter is in Vienna - Austria, but we also have offices in Malacky – Slovakia, and Madeira Island – Portugal) and in the U.S. Our clients are based everywhere in the world, and the work environment is team-oriented and excellent!
Job Description:
Assisting with integrations to enhance or maintain SEO competitiveness.
Creating, editing, writing, or designing Website content.
Conducting website performance tests.
Developing or validating test routines and schedules to ensure test cases mimic external interfaces and address all browser and device types.
Directing or performing Website updates.
Ensuring that website design, layout, and coding is optimized for search.
Giving feedback to the digital marketing team about SEO.
Identifying problems uncovered by customer feedback and testing and correcting or referring problems to appropriate personnel for correction.
Monitoring the performance of the live website.
Performing regular tests on website SEO rankings.
Researching the latest SEO guidelines and implementing them.
Troubleshooting technical and content issues for the website.
Using scripting or authoring languages, management tools, content creation tools, applications, and digital media.
Required Qualifications:
Proven work experience as a WordPress developer.
Two years of front-end development and web design experience.
Bachelor's degree in Web development or related field, or relevant experience.
Solid understanding of general SEO principles and the web-design process.
Familiarity with google analytics and other analytic tools.
Knowledge of front-end technologies, including CSS3, JavaScript, HTML5, and jQuery.
Good understanding of website architecture, usability and aesthetics.
C1 English
Soft skills:
Passion for writing and technology
Organizational and time-management skills
Detail-focused.
Has fun accomplishing great things
Excellent communication skills
Nice to have:
Certification in SEO or Google Analytics
Experience in managing paid campaigns.
Bachelor's degree in marketing, informatics or communication
Experience with social media management ( LinkedIn, Youtube, Instagram, Twitter)
Being familiar with major business systems (Microsoft Dynamics 365, SharePoint, Exchange Server)
Be part of a rising star and help us get faster and better results. We are an international team representing more than ten countries at offices in Malacky (SK), Vienna (AT), Funchal (PT), and Denver (USA). We're constantly improving and striving to become number one: you can join us and be part of the success.
The best part? You could do this from our office in the pearl of the Atlantic Ocean - Madeira Island, Portugal, or Slovakia in the center of Europe or even remotely.
Send your CV to office@connecting-software.com & tell us why you're the one to work with us!
If you want to learn more about us, we kindly invite you to contact us or access our website and social media channels! We are waiting for you!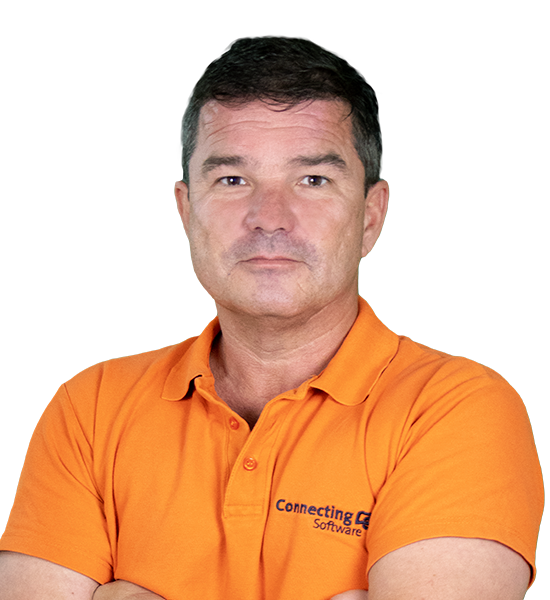 We are looking for outstanding professionals, hungry to always try something new, and create the best solutions to challenging problems. Are you ready?
- Thomas Berndorfer,
CEO & Founder