Ein bekannter europäischer IT-Verlag und die Market Intelligence-Organisation IT Europa nominierte Connecting Software als Finalist in der Kategorie Lösungsanbieter und unabhängiger Softwareanbieter (ISV) für die Auszeichnung Connected/Mobility Solution of the Year.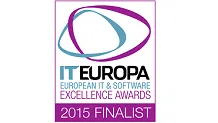 Connecting Software wurde in die engere Wahl für die European IT and Software Excellence Awards aufgenommen. Die Nominierungen basieren auf der Implementierung unserer mobilen Anwendung CB Mobile CRM in die preisgekrönte Atos Epidemie-Management-Lösung. Connecting Software wurde als Finalist für die Auszeichnung Connected/Mobility Solution of the Year sowohl in den Kategorien Lösungsanbieter als auch ISV ausgewählt. Die Gewinner werden am 25. März 2015 im Lancaster London Hotel bekannt gegeben.
Die European IT and Software Excellence Awards sind die einzigen paneuropäischen Auszeichnungen, die ISVs und Entwickler auszeichnen, die besondere Fähigkeiten bei der Bereitstellung von Lösungen für Kunden und Partner in der Praxis bewiesen haben. Die Finalisten haben ein echtes Verständnis für die Anforderungen des Kunden und die Fähigkeit gezeigt, Software spezifikations- und zeitgerecht zu liefern und dabei die Ziele des Kunden zu übertreffen.
CB Mobile CRM ist eine mobile Anwendung, mit der Benutzer auf die Dynamics CRM-Daten zugreifen können, ohne dass ein Computer erforderlich ist. Benutzer können auch unterwegs ohne Einschränkungen mit den CRM-Daten arbeiten. Ob große oder kleine Unternehmen, Gesundheits- oder Regierungseinrichtungen - jede Art von Organisation kann die Funktionen des CB Mobile CRM nutzen.
Die Anwendung lässt sich leicht an die Bedürfnisse des Kunden anpassen. Und das ist bei dem nominierten Eintrag der Fall. Wir haben CB Mobile CRM entwickelt und auf die hochgradig angepasste CRM-Lösung von Atos zugeschnitten. Wir haben auch mobile spezifische Funktionen hinzugefügt, die den Anforderungen des Epidemie-Managements entsprechen. Zum Beispiel das Scannen eines Codes, die Verwendung von GPS-Informationen und digitaler Signatur oder das Aufnehmen und Bearbeiten von Fotos und deren Anbringung an der Aufzeichnung direkt vom mobilen Gerät aus. Darüber hinaus kann die App auch angepasst werden, um Daten aus SharePoint, Exchange oder anderer Software bereitzustellen.
Sie können CB Mobile CRM kostenlos auf Android, iOS und Windows Phone herunterladen.