Un prominente editor europeo de TI y organización de inteligencia de mercado IT Europa nominó al Connecting Software como finalista en la categoría de Proveedor de Soluciones y Proveedor Independiente de Software (ISV) para el premio Solución Conectada/Movilidad del Año.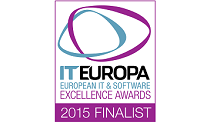 Connecting Software ha sido preseleccionado para los Premios Europeos de Excelencia en TI y Software. Las nominaciones se basan en la implementación de nuestra aplicación móvil CB Mobile CRM a la galardonada solución Atos Epidemics Management. Connecting Software ha sido elegido como finalista para el premio Connected/Mobility Solution of the Year, tanto en la categoría de Proveedor de Soluciones como en la de ISV. Los ganadores serán anunciados el 25 de marzo de 2015 en el Hotel Lancaster de Londres.
Los Premios Europeos a la Excelencia en TI y Software son los únicos premios paneuropeos que reconocen a los ISV y a los desarrolladores que han mostrado habilidades particulares en la oferta de soluciones del mundo real a clientes y socios. Los finalistas han demostrado una comprensión real de los requisitos del cliente y la capacidad de entregar el software según las especificaciones y la escala de tiempo, a la vez que superan los objetivos del cliente.
CB Mobile CRM es una aplicación móvil que permite a los usuarios acceder a los datos de Dynamics CRM sin necesidad de una computadora. Los usuarios pueden trabajar con los datos de CRM sobre la marcha sin ninguna limitación. Grandes o pequeñas empresas, instituciones de salud o gubernamentales - cualquier tipo de organización puede hacer uso de las características de CB Mobile CRM.
La aplicación es fácil de adaptar a las necesidades del cliente. Y ese es el caso de la entrada nominada. Hemos desarrollado y adaptado CB Mobile CRM para que se ajuste a la solución CRM altamente personalizada de Atos. También hemos añadido características específicas para móviles que se ajustan a los requisitos de gestión de epidemias. Como escanear un código, utilizar información GPS y firma digital o tomar y editar fotos y adjuntarlas al registro directamente desde el dispositivo móvil. Además, la aplicación también puede personalizarse para proporcionar datos de SharePoint, Exchange u otro software.
Puedes descargar CB Mobile CRM gratis en Android, iOS y Windows Phone.