Dime.Scheduler is de grafische resource planning en scheduling tool bij uitstek voor Microsoft Dynamics NAV en CRM partners en gebruikers die planning functionaliteit willen integreren in hun bedrijfsprocessen en verticale oplossingen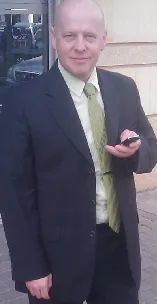 Connecting Software (CS): Patrick, kun je ons iets vertellen over jezelf en je rol binnen het bedrijf.
Patrick Hijs (PH): Ik ben tussen 2001 en 2008 betrokken geweest in een brede waaier van functies binnen de Microsoft Dynamics NAV omgeving voor de BMW Group Belux/AG. Drie jaar geleden ben ik bij Dime gestart als Business Development manager en daarmee ben ik verantwoordelijk voor de groei van ons partnernetwerk.
CS: Patrick, kun je je bedrijf in je eigen woorden beschrijven; misschien iets dat we niet kunnen vinden op de webpagina van Dime?

PH: Dime heeft een speciale focus op de Microsoft Dynamics markt als distributeur van topklasse add-ons. Dime.Scheduler is één van onze in-house ontwikkelde oplossingen waarvoor we wereldwijd +60 resellers tellen. Dime.Scheduler is een veelzijdige en eenvoudig te integreren web-based resource planning tool met back-office connectoren voor Microsoft Dynamics NAV en CRM. Bovendien kan Dime.Scheduler geïntegreerd worden met elke ERP, CRM of LOB applicatie die web services ondersteunt.
CS: Kunt u een recent project van uw bedrijf uitlichten?

PH: Ons bedrijfsmodel houdt in dat wij alleen met wederverkopers werken. Wij hebben verschillende projecten lopen via ons partnernetwerk in verschillende sectoren (Field Service en Verhuur, Bouw, Horeca, Onderwijs, Gas & Olie, Transport, Verhuur van machines, Automotive, Projectplanning, Aanneming, Huizenbouw, On-shore Off Shore, IT, enz.)
CS: Waarom heb je contact met ons opgenomen? Wat was de belangrijkste reden?
PH: Wij stonden op het punt een bidirectionele interface met MS-Exchange te implementeren voor de synchronisatie van afspraken die uit Dime.Scheduler komen.
Toen we uw product nader bekeken, merkten we dat het alle vereiste functionaliteit had die we zochten en dat we het gemakkelijk konden integreren in onze oplossing.
CS: Waarom was Connecting Software aantrekkelijk of aanlokkelijk voor uw bedrijf?
PH: Het gemak van integratie met Dime.Scheduler en het feit dat alle versies en platforms van Exchange Server worden ondersteund, inclusief toekomstige versies.
CS: Hoe zou u de samenwerking met Connecting Software karakteriseren of omschrijven?
PH: Wij hebben een zeer open en flexibel partnerschap met Connecting Software, zoals wij van al onze partners en distributeurs verwachten maar ook naar hen uitvoeren.
CS: Wat is voor uw bedrijf het meest waardevolle deel geweest van de samenwerking met Connecting Software?
PH: Een stabiel en flexibel product dat in overeenstemming is met onze waarden en kwaliteitsnormen.
Het antwoord is het meest verheugend voor Connecting Software omdat wij ernaar streven steeds een stabiele en flexibele partner te zijn.
CS: Hoe ziet u de toekomst van de samenwerking tussen Connecting Software en Dime?
PH: Met ons partnernetwerk dat voortdurend groeit (onlangs startte Dime met distributiecentra in Duitsland, de VS en Scandinavië) staan we wereldwijd voor exponentiële groei. Daarom hebben we betrouwbare partners nodig. We zijn ook op zoek om ons aanbod uit te breiden met andere oplossingen van Connecting Software aan ons partnernetwerk.
Wilt u meer weten over Dime.Scheduler en haar producten? Bezoek hun website: www.dime-software.com/