Support for your long-trusted Microsoft Exchange 2010 ends on October 13th, 2020.  You need to move on and migrate Exchange 2010 to a newer version.
But do you know how you should go about it?  
---
So, where should I start for my Exchange migration?
The first thing you need to do is to decide whether you want to stay with Microsoft Exchange or if you want to go for something different.
Sticking with Microsoft Exchange means that the change is transparent for the end-users, so it is the best option in terms of user adoption, 100% guaranteed! It requires no training for users, any integrations you might have with other software or Outlook plug-ins that your company might use will still work. In short, after the migration, business will continue to run as usual.
For those that want to migrate to something different, the most popular option is to migrate Exchange to G Suite (formerly Google Apps). It is likely that some of their end-users will have had contact with Gmail, so it is not that bad in terms of user adoption. Another alternative is to migrate from Exchange to Zimbra or other platforms. For doing these migrations you'll naturally need to look for help on the destination platform, not Microsoft. To get from Exchange 2010+ to G Suite, you have G Suite Migrate. For getting from Exchange to Zimbra, you have the Zimbra Migration Tool.
No matter what tool you use, make sure you know what items you want to migrate. Is it just the e-mail messages or also contacts, calendar items, tasks, public folders? Public folders and recurring calendar events tend to be the trickier in migration scenarios, so try to see if you will be migrating those.
What if I want to stick with Microsoft Exchange?
If you want to keep using Exchange, the decision is then if you want to go to the cloud or if you prefer to keep your Microsoft Exchange installation on-premises.
If you want to go to the cloud, Office365 is the way to go. It is a bit of a giant leap but you get all the advantages of Office 365, so I think it is well worth it.
The migration steps will depend on:
The number of user mailboxes
Total size of mailboxes
Need of coexistence with old system (if yes, for how long?)
You'll typically hear terms get thrown around, such as staged migration, cutover migration, or hybrid deployments. Well, all of those things are possible, and there is plenty of official documentation from Microsoft on it. Let me summarize it for you:
In a cutover migration you migrate all of your mailboxes all at once.
In a staged migration, you migrate mailboxes in batches.
Staged migrations are a bit complicated to pull off. In contrast, cutover migrations are pretty straightforward and allow you to migrate all of your mailboxes, mail users, and distribution lists at one time with a minimal amount of overhead.
Hybrid deployments are a separate issue. In a hybrid deployment, you retain your on-premises Exchange Server deployment. The new Office 365 Exchange functions as an extension of what you've got running in-house.
All these approaches to migration are geared towards larger businesses. If you are in a smaller organization, you can choose simpler migration techniques that deal with one mailbox at a time. In general, these options are limited to email messages migration (no calendar, contacts or tasks) and don't handle the creation of the account itself.
The most popular migration technique for really low number of accounts is to migrate by way of a PST file. Let's say you are running Exchange Server locally with the end-users on Outlook. You could use Outlook to dump all of the user's mail up to a PST and then upload that PST to Office 365. Other options include importing mail into OneDrive or using IMAP.
What if I want to upgrade but keep Exchange on-premises?
If you prefer to stay with an on-premises solution, then there are a few things you MUST know:
If you start with an Exchange 2010 in your environment, and you follow the Microsoft way, you cannot introduce Exchange 2019 

until migrations are done

to a newer version of Exchange — for example, 2016 — and then decommissioning Exchange 2010 is finished. This is why so many migrate to 2016 in 2020! However this double-hop migration takes a lot of time and is very error-prone.
Exchange 2019 hardware requirements are not low. Exchange 2019 is made for the large enterprise and if you look at requirements to run it optimally you are looking at 128GB+ of RAM and you need CPU power.
Exchange 2019 software requirements are that you use Windows Server 2019. The big surprise is that you can install it on Windows Server 2019 core edition. Microsoft actually recommends using Server Core as the basic platform for Exchange 2019.  This means you do have less patching to do but you can only manage this server using PowerShell and a browser to login to the Exchange Admin Center (EAC). Some people don't like working with just a command prompt and prefer the GUI. You'll have to weight those pros and cons.
Is there any tool to help in this migration?
If you want to migrate from Exchange 2010 to Exchange 2019, the perfect tool is CB Exchange Server Sync.
This tool avoids the step of having to go through Microsoft Exchange 2016 and it covers all possible migration needs: e-mail messages, contacts, calendars, tasks, public folders and every little detail that they might have with them.
It handles recurring events correctly and has many configuration features if you need them. Nonetheless, it automates pretty much everything that can be automated in terms of configuration, so you can go through configuration quickly.
Takeaway
Migrating your Microsoft Exchange 2010 to more recent technology is no small task or one that you should take lightly.
To achieve it, make sure you know where you want to go, and do not hesitate to turn to the tools that can help you. If you want to use CB Exchange Server Sync, our experts can help you figure out the best approach for your specific case. Get in touch with them!
---
Want to learn more? I recommend these articles and case studies: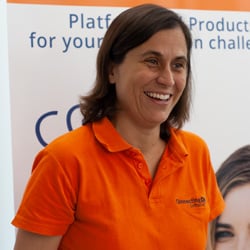 Ana Neto
Technical Advisor
at Connecting Software
Author:
I have been a software engineer since 1997, with a more recent love for writing and public speaking.  Do you have any questions or comments about this article or about CB Exchange Server Sync? I would love to have your feedback!