From Austria to Madeira, a love affair that changes the life of a company
Cristina A. Ferreira - Ntech.news
The island of Madeira has hosted a Connecting Software branch since 2017. It was born with 10 employees and by the end of 2019, it should reach 20. The initial plan aimed only at the creation of a representative office, «but over time the number of hires has increased and positive conditions have given rise to the desire to transfer more activities to the island», says Thomas Berndorfer, founder and CEO of the company.
«We are currently transferring marketing and we will also transfer maintenance and customer support services». Next year, the sales area should be transferred, continues the executive, while explaining how the fascination with the island was born.
«Madeira is an excellent place to live and also offers tax benefits. First, we came on vacation, fell in love with the island, and decided to create an office here ». The plans for the local office have been redesigned, as the entrepreneur has identified opportunities and local talent, thanks to a partnership with the University of Madeira.
The delegation has become an IT hub where the software is developed, in addition to having administrative and marketing areas, on the way to reinforcement. Born in Austria, the company has yet another development hub in Slovakia (software development hub) and offices in the United States, where it has its largest customer base.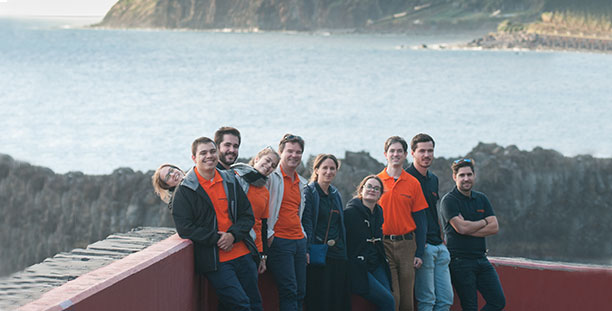 Connecting Software team in Madeira, recruited from the local University.
Connecting Software's business
Connecting Software facilitates software integration processes, through tools that streamline this type of tasks and simplify the creation of connectors customized to the needs of each company.
Its Connect Bridge platform, as guaranteed by Thomas Berndorfer, allows training any programmer to become an integration expert in three hours, and reduces the use of code by up to 90%. According to the official, the offer is distinguished from the competition by its simplicity, price, and comprehensiveness, since it is not just a service in the cloud, as it happens with many tools of this kind. It manages to «cover all scenarios in a generic way - on-premise, cloud, and hybrid. And we have been doing this since 2010, before any competitor », underlines the CEO.
The central platform of CS is joined by a set of products to respond to specific needs, in areas such as CRM, ERP (Enterprise Resource Planning), or Document Management Systems.
One of these products is the CB Dynamics 365 to SharePoint Permissions Replicator, which automatically synchronizes user privileges in Dynamics CRM with SharePoint permissions, preventing unauthorized users from having access to data from the CRM platform, when the two applications are used in a complementary way.
This tool was also chosen by Thomas Berndorfer to illustrate the potential of CS software, using figures estimated by Orange Business Solutions, KPMG, or IBM. Companies estimate that it takes at least 200 working days for a programmer to develop the functionality ensured by CB Dynamics 365 to SharePoint Permissions that this tool allows ensuring.
Who uses software and for what
The Microsoft ecosystem (integration with NAV, AX, D365, Exchange / Outlook, SharePoint, and others) has been one of the breeding grounds for the growth of this type of software. Banking and insurance, where older languages such as Cobol are still widely used, also guarantee a high demand for this type of tool, since this way it is possible to integrate software developed in Cobol, without having to write code in this language. Indústria 4.0 and IoT are other areas where the company's solutions can make a difference, guarantees Thomas Berndorfer, "by allowing sensors, machines and production lines to be placed in a factory to" speak "like any software used on the desktop", continues the person in charge.
Large companies are the main recipients of Connecting Software solutions, but the company's founder guarantees that the offer was designed to adapt to business needs with different dimensions, including price.
The company operates with a network of partners that do not yet have Portuguese companies, but where there are already some international names with businesses in Portugal, such as ATOS, Capgemini, or DXC. In addition, there are contacts in the territory for new, more direct partnerships.
The list of local customers includes several multinationals with a presence in Portugal, such as Securitas, Airest, or Infineon, although Thomas Berndorfer admits that success in southern European markets is very much based on "relationship management", which creates the need more time for the offer to be known and start generating more interest.
Meanwhile, the presence in Portugal, through Madeira, will continue to be strengthened and the CEO of CS guarantees that he will also pass through here looking for an answer to one of the objectives outlined by the software house for this year: finding a CTO (Chief Technology Officer) visionary.
---