When you ask someone if they would like to go to an all-inclusive five-star resort on a paradise destination, you can already guess their answer – yes, if I can afford it.
The same goes if you ask factory owners and managers if they want to bring the power of Industry 4.0 into their company. Everyone wants to do it – if they can afford it.
Why OPC UA Is Important For Digital Transformation
Digital Transformation is on the roadmap for most manufacturing companies. However, this road is not without obstacles.
First, manufacturing companies often have a very heterogenous machine park. This makes it difficult to collect data, as every asset on the shop floor speaks a different language.
Accepting a radical modernization of the entire automation system is not easy and manufacturing companies simply cannot take the risk of quitting a running system. Instead of changing the whole system, it is necessary to implement modern ways of information management and integration to the hardware infrastructure that is in use.
OPC UA is a data exchange standard for industrial communication that offers a non-intrusive, cost-effective way to modernize legacy systems and connect factory assets. It is one of the industry-adopted open architectures which was developed to move information from the device layer into the upper layers of the automation pyramid.
With the use of OPC UA Servers, whether embedded in a device or as standalone software, the number of brands and devices that can be interconnected includes most of the hardware in the field, for almost every industry. Even PLCs that communicate over serial fieldbuses can be connected to an OPC UA server, and their proprietary controller protocols are then translated into the open OPC UA format.
There are three key ways in which OPC UA helps customers transform their business processes and meet the needs of Industry 4.0:
Interoperability - The ability to connect different machines, systems, and entire factories is a requirement for modern manufacturers.
Data model standardization - OPC UA information model standardizes the data models from various sources into the OPC UA format. This allows telemetry from these data models to be incorporated into the manufacturing companies' business processes.
Security - By removing proprietary barriers and simplifying access, OPC UA helps customers manage permissions, authenticate users, and encrypt data. This makes securing the entire system easier by using redundant layers of defense mechanisms.
The Power of Middleware
This takes us to our second obstacle. Manufacturing companies often use a wide range of business software to take care of their day-to-day operations. Most of this software is not connected to factory machinery and is updated manually. How do you read information from a heterogeneous machine park? How do you automatically connect the shop floor to the higher layers of the automation pyramid? And how do you maintain the flexibility to add and remove software as it's needed?
Integration solves these challenges by allowing applications to automatically exchange data, in the right format, eliminating manual intervention, increasing the cadence and thereby improving the timeliness of information.
Many organizations use integration in a tactical way – that is, when a problem or opportunity appears, where the connection of one application to another can deliver a clear benefit, a point-to-point integration is done. This solves the immediate problem and delivers value to the organization in the short term.
In the longer term, these bespoke integrations may become problematic. The people who created them change jobs. Documentation is poor. So many connections are created that it becomes difficult to keep up with where one begins and the other ends. Those tasked with managing the complex web of IT systems and applications face an undesirable task with every upgrade.
A middleware layer effectively detaches applications and systems from one another, while still providing the essential ability to exchange data and services. New applications can be introduced without upsetting old ones. Updates and upgrades done to one system don't impact others. Obsolete applications can be removed with confidence. These events are day-to-day occurrences. A strategic approach to integration, powered by middleware, eliminates the risk factor from these activities. It also accelerates the ability to act, enabling flexibility and allowing you to take advantage of the best existing applications, systems, and services.
It is for these and many other reasons outlined within this document that middleware is so valuable.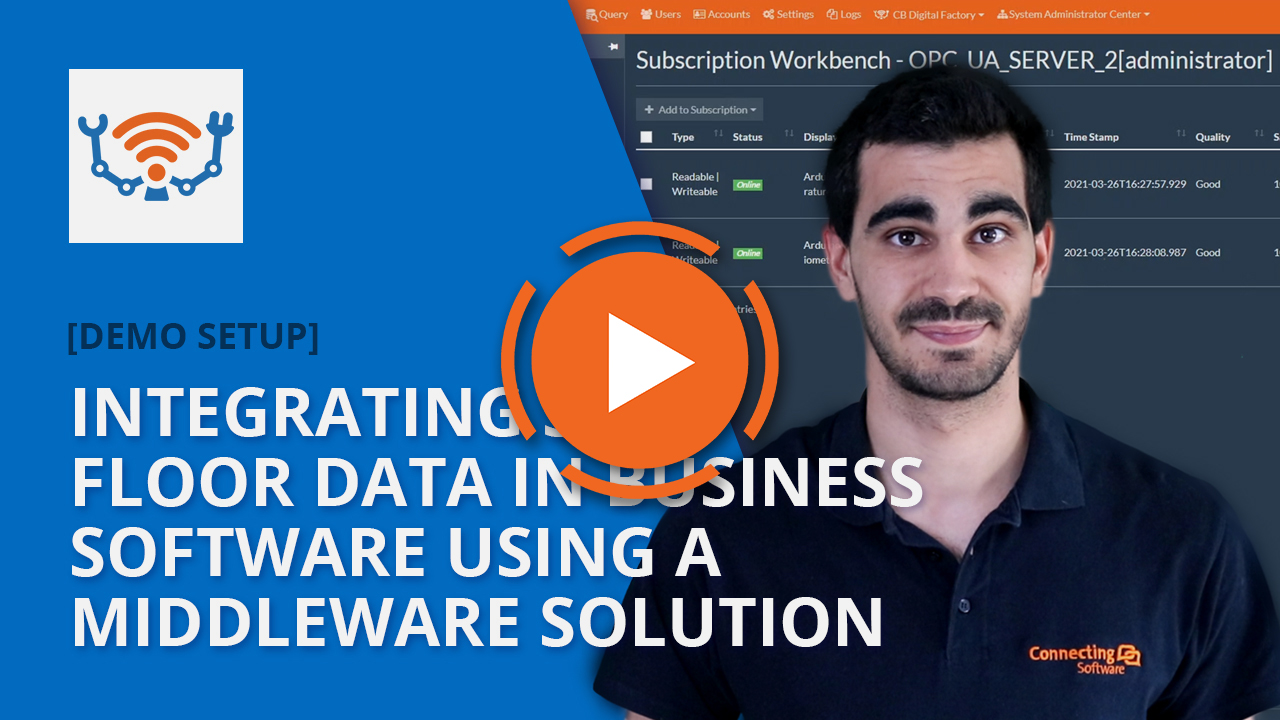 The Best Of Both Worlds
So, how do you leverage the power of OPC UA and middleware?
By using CB Digital Factory, the key to industrial digital transformation.
It is an end-to-end solution that combines reliable shop floor connectivity with flexible and safe data integration into any software. A future-proof Industrial IoT middleware that brings agility into any Industry 4.0 initiative – avoiding a maze of point-to-point connections, simplifying integration challenges, and allowing you to take advantage of new technology effortlessly.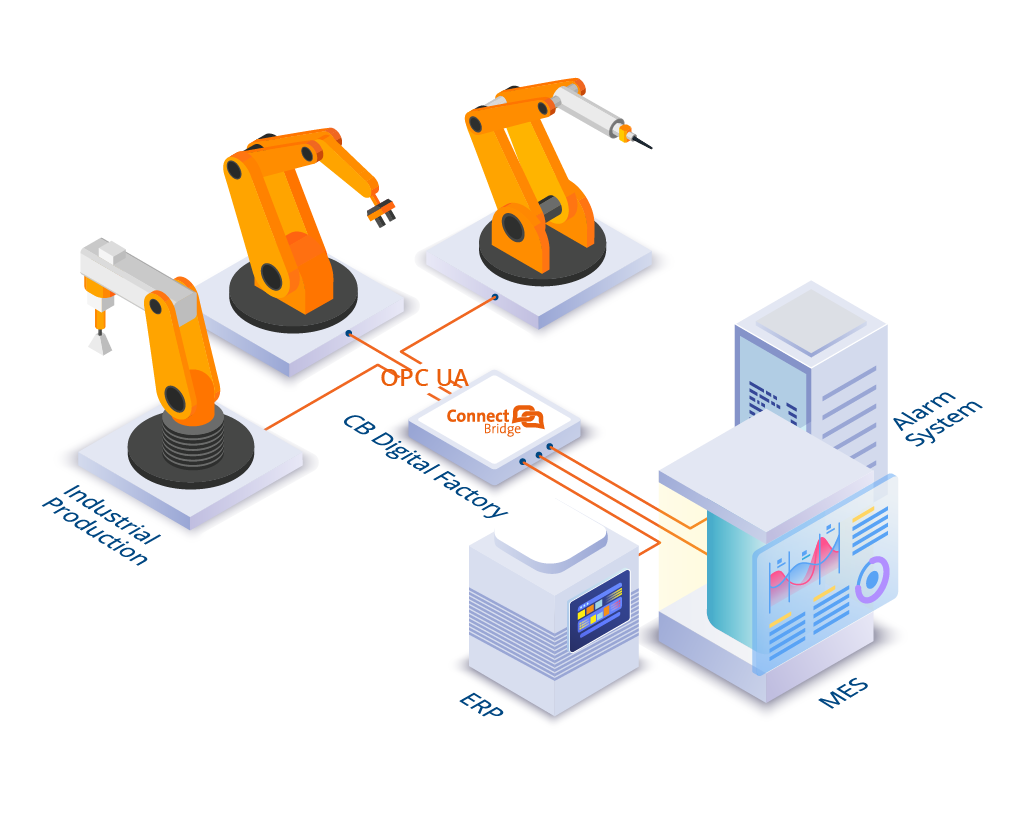 By using the OPC UA standard, virtually all the devices present on the shop floor can be connected. CB Digital Factory, built on Connect Bridge, our state-of-the-art integration platform, then interprets and translates OPC UA so you can get the data into your applications.
The first step is to get your field devices on an OPC UA Server. This server can either be embedded on the device or from an independent provider.
After this, you use the CB Digital Factory web application to set up the integration. What CB Digital Factory does is translate simple SQL statements into the necessary complex OPC UA calls. You can now stay in your programming language and just focus on what data you want to obtain from your shop floor by writing SQL queries into your application to access it – CB Digital Factory does all the back-end heavy lifting for you.
Whether it's integrating data into a CMMS, MES, CRM, ERP, OEE Software, database, or even Excel, CB Digital Factory can do it all, eliminating the need to maintain multiple disparate solutions for shop floor connectivity.
Furthermore, you can directly integrate machine data into your business software applications by using our pre-built connectors to most business software applications.
How can I start?
You don't need costly system integrators and can instead do the whole process with your own team.
To see how this works for yourself, think of which software and machines you would like to integrate and ask for your personalized free demo.
Interested in Industry 4.0? Read more: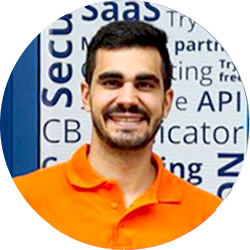 Pedro Noronha
IIoT Product Manager at Connecting Software
Author:
I graduated with a master's degree in Mechanical Engineering and worked in the Automotive Industry as a Consultant and Project Manager, before focusing on IT and Industry 4.0.
Do you have any questions or comments about this post or CB Digital Factory? I would love to have your feedback, please leave a comment below!