"Our final solution does not have a DMS (dealership management system), but it fits the needs of our customer, who is the leader auto dealership in Mexico, even better than if it did!"
- Enrique Lechuga
Customer: Leader auto dealership in Mexico through our partner, Fesworld
Headquarters: Ciudad de México, Mexico
Activity: Auto dealership
Product application: Connect Bridge
Connect Bridge enables a unique integration solution in Mexico
What if you wanted to connect Microsoft Dynamics with SAP and Gmail? It is certainly not your everyday combination, but this was exactly what Fesworld wanted to implement for a customer in Mexico.
Their customer is a leader in the auto dealership market in Mexico, selling a variety of auto brands, trucks and construction vehicles and supporting their customer after-sales. With over 500 users spread in different locations, this customer is a well-established business.
Fesworld is also an experienced company, with over 20 years on the market and serving 22 different countries. Being mostly focused on Microsoft software, handling the Dynamics 365 side was not a problem at all… But how could they get a comprehensive solution to cover Dynamics 365, SAP and Gmail?
How the integration platform was chosen
Enrique Lechuga, Director of Customer Service and Marketing at Fesworld, explains how the process started "Our customer was using Gmail, not Microsoft Exchange, and so we started with the standard integration from Dynamics to Gmail".
The problem was that this standard synchronization only handles messages. Synchronizing from Dynamics to Gmail's calendar was also necessary, and that is what lead Fesworld to Connecting Software and to the integration platform Connect Bridge.
How the system works
"Our final solution does not have a DMS (dealership management system), but it fits the needs of our customer, who is the leader auto dealership in Mexico, even better than if it did!" assures Enrique Lechuga.
The final solution involves Dynamics 365 Sales, Dynamics 365 Customer Service, SAP (as ERP) and Gmail. All these are linked by Connect Bridge.
When the potential car buyers want to schedule a test drive, this system is used. It is again used for the sales follow-up, in which it is essential to be able to see what the previous contacts were and also to access calendars and messages.
Even for scheduling repairs, the same system is used. The information is now where the end-users want it, and that made the user adoption easier.
Why was Connect Bridge chosen?
"Most Fesworld projects rely on Microsoft products" Enrique Lechuga explains, "but we knew we needed more than Microsoft products and our experts alone for this customer".
Knowing that their partner, Connecting Software, was the integration specialist to turn to they presented the problem to Connecting Software. They found that using the integration platform Connect Bridge allowed a perfect fit the customer requirements and the final solution to connect Dynamics 365, SAP and Gmail, in a fast and reliable way.
This was, in fact, what happened, and the solution is now part of the day-to-day operation of the final customer for two years. Connect Bridge was the missing link that ensured the end-user got the features they wanted from the software they wanted.
Who is Fesworld?
With over 20 years' experience successfully delivering business software solutions, Fesworld is an internationally renowned company made up by individuals with several years' experience in business processes and the IT field. Fesworld is a Microsoft Gold ERP and Gold CRM Partner and has been granted Latin America Partner of the Year in 2018.
Thanks a lot to Fesworld for this detailed case study of the integration platform application.
---
For more opinions on Connect Bridge, check these links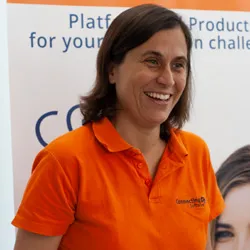 By Ana Neto, technical advisor at Connecting Software.
"I have been a software engineer since 1997, with a more recent love for writing and public speaking.  Do you have any questions or comments about this post or about Connect Bridge? I would love to have your feedback!"
ana@connecting-software.com