If you want to sync Google calendar with Microsoft Outlook, the most reliable way is to go for server-side synchronization and involve Microsoft Exchange.
Google and Microsoft are the two biggest e-mail giants, so it is only natural for them to compete. Some may argue that Gmail is better due to its ease of use and friendly interface, while others wholeheartedly defend Outlook for its widespread presence across the business world. Whatever your case may be, chances are you are one of the many individuals who deal with both these services daily.
If so, you will know that checking multiple calendars during a busy workflow can be extremely frustrating. But worry not! By the end of this article, you will know how to solve this problem best!
Gmail vs. Outlook for Business
In 2021, Gmail was the most used e-mail client, holding 36,5% of the market share, according to Statista. When it launched in 2004, it included about 1GB of storage, which was the most any e-mail client offered at the time. Outlook, on the other hand, held 5,9% of the 2021 market share, which is a notably smaller percentage when compared to Gmail.
Google Workspace, previously known as G Suite, is a collection of productivity and collaboration tools aimed at businesses, and Gmail is included in this assortment (more about this here). Microsoft Outlook, however, works together with Microsoft Exchange, and while you might see these terms used interchangeably, they mean different things. While Outlook is the software you have installed on your computer, Microsoft Exchange is the backend system for your e-mails, messages, calendars, and tasks. Exchange then connects to Outlook to display the information to the user.
Integrating the Calendars
Since you're reading this article, there is a good chance you are interested in migrating or synchronizing your Gmail/Google Workspace calendars with your Outlook/Exchange calendars. If so, you might be experiencing one or more of these scenarios:
You use Gmail/Google Workspace at work and Outlook/Exchange at home, or vice-versa, and you are looking to combine both calendars into one place.
You have multiple professional e-mail accounts, as is often the case for consultants and other professionals, and you need a consolidated view of your calendar (and not simply seeing the multiple calendars).
You are going through a merger and acquisition, and the companies being merged use different e-mail clients. During a transition period, while the "Exchange vs. Gmail" debate is ongoing, there is a need to use both e-mail clients simultaneously, and the ability to synchronize both types of calendars is a big lifesaver for everyone involved.
If you're an IT administrator, you may be looking for a way to allow an external party to interact directly with your company's calendar, which is much more efficient than having to handle everything over e-mails and calls.
Lastly, in case the building your company is installed in is shared by other businesses, resources such as meeting rooms, theatres, and other communal spaces are usually coordinated through an internal Exchange Server. Having the convenience of synchronizing each company' calendars with the resources' calendars would be the most efficient way to manage overall availability.
Two-Way Sync Google Calendar with Outlook
This need for integrating Gmail and Outlook calendars is something that has been addressed before. For example, Google launched Google Workspace Migration for Microsoft Outlook (GWMMO), and Google Workspace Sync for Microsoft Outlook (GWSMO). GWMMO allows the migration of Outlook data into Google Workspace, thus, Outlook to Gmail migration. It is targeted at users looking to stop using Outlook entirely. GWSMO, on the other hand, allows users to sync items from their Outlook account with their Gmail account.
Despite being handy for some professionals, GWSMO does not have the same capabilities as other tools in the market, and this is where we come in!
CB Exchange Server Sync for Gmail and Google Workspace allows users to securely synchronize and migrate:
E-mails
Calendars
Contacts
Tasks
Notes
Folders
One-directionally or bi-directionally, and across multiple Outlook/Exchange and Gmail/Google Workspace accounts. Yes, this means our solution allows the true two-way synchronization of Google and Exchange calendars; it allows you to sync Google contacts with Outlook and much more!
What Is the Difference from Other Solutions?
The main difference between our solution and others is the fact that ours functions as one whole system, as opposed to two individual ones. Other solutions allow you to have both calendars side by side and to switch between mailboxes within one environment, and while this can be useful for a few people, it does not meet the level of integration required by the busy professionals of today.
Using other solutions, when someone is trying to book an event into your calendar, they will only see the appointments of the account they are trying to book into (Outlook or Gmail calendar), rather than seeing both. With CB Exchange Server Sync for Gmail and Google Workspace, since all accounts are synchronized directly into one calendar, they will be able to see all your appointments, avoiding the e-mail ping pong of explaining and apologizing for not being able to attend – you know how it goes.
CB Exchange Server Sync for Gmail and Google Workspace
Our CB Exchange Server Sync for Gmail and Google Workspace solution came as a result of our success with CB Exchange Server Sync. As their names indicate, the synchronization takes place between Exchange and Google in the first case and between two Exchange servers in the second case.
Besides not having to meticulously analyze your calendars to make sure there are no overlapping events, our solution also becomes a lifesaver for the people looking to arrange meetings with you. They will not be able to book something into an already occupied slot, and they will see the times when you are not available, even if this is booked in your personal calendar (note that our service gives you the option of revealing the appointment information or just showing as free/busy). In addition, CB Exchange Server Sync for Gmail and Google Workspace is:
Secure – Your data is synchronized on the server and not on the e-mail client or device you are using.
Customizable – Besides having a friendly user interface, you are free to choose the synchronization period and select which items you wish to synchronize. There are also options for syncing private items, subfolders, and for creating batches of items, among others.
If you're curious, below you can find the video we created to give you a better idea of how CB Exchange Server Sync for Gmail and Google Workspace works. We also offer you a free 15-day trial to test out this solution! And if you have any questions, don't hesitate to reach out.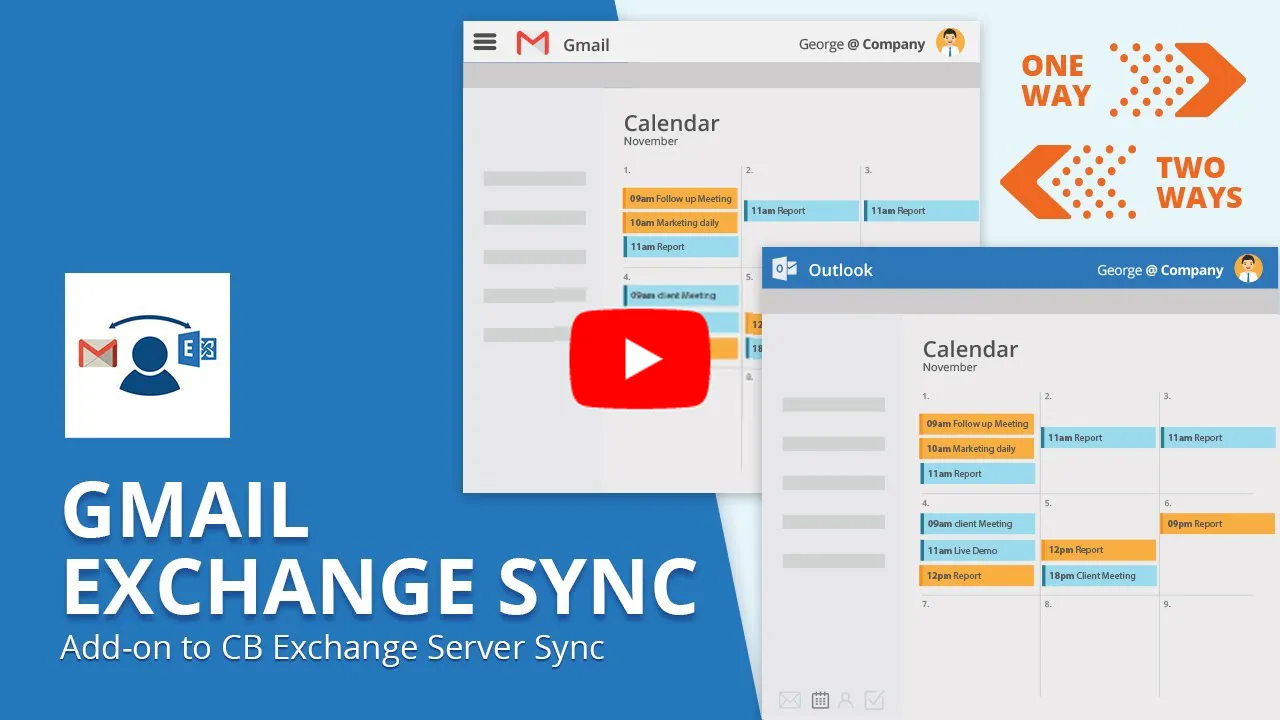 Where Can I Find More Info on Exchange Synchronization?
---

By Diogo Gouveia
"After completing my studies in the United Kingdom, I joined the Marketing team at Connecting Software to create content on software integration and a variety of other IT topics. If you have any observations or suggestions, please reach out."

diogo.gouveia@connecting-software.com
Collaboration: Anastasia Mazur, Ana Neto
Originally published on July 2, 2020
Last updated on March 9, 2023