Connecting Software is looking for a
Madeira, Malacky, Remote
Selling from Paradise to the world!
Key account / technical sales professional for fast growing software company
You are bored living in a big city, or freeze in the winter? You love the sea fresh food and nature to balance the work?
Nowadays work can be done from anywhere - why not from Paradise?
Madeira is one of the best islands to live- all year spring time and still in the EU. Work close with our technical and marketing teams and help us to provide our unique solutions to the world.
Our customers are cross industries- we deliver to anybody from little business to global enterprises or governmental organizations.
We are selling our unique products and solutions via web requests and partners. No cold calls or old school selling. Prices of our software goes from 100 to 1.000.000 Euros.
You should focus on the higher volumes.
We are an international Software vendor (ISV) with innovative products and industry leading partners across 5 continents.
– join Connecting Software! Be part of a rising star and help to get results faster and better. No politics just results and achievements count.
If you like and understand at least some of them:
- Enterprise Software
- Business processes
- ERP, CRM, DMS, ECM, Collaboration and Marketing Automation
- IT architecture, SaaS and Software Integration
- understanding of different cultures and behavior especially North American
- communicate with technical and non technical people
then we're looking for you. E-mail us your CV with a photo and motivation letter in English to kick-start your career.
The position is suitable for experienced professionals. We are looking for goal and success oriented, passionate and motivated individuals.
Candidates with education suit the position
University education (Bachelor's degree)
University education (Master's degree)
Postgraduate (Doctorate)
Educational Specialization
IT, Software Integration, Business, Software
Language skills
English - Proficiency (C2) - as you will mainly work with English this should be natural for you.
Don´t wait- time to move to paradise- live and work where others make holidays!
Send your CV in English and tell us why you're the best applicant via E-mail to: office@connecting-software.com.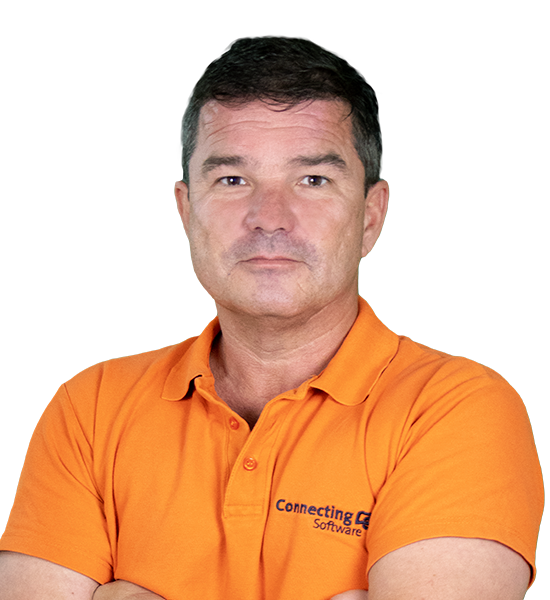 We are looking for outstanding professionals, hungry to always try something new, and create the best solutions to challenging problems. Are you ready?
- Thomas Berndorfer,
CEO & Founder